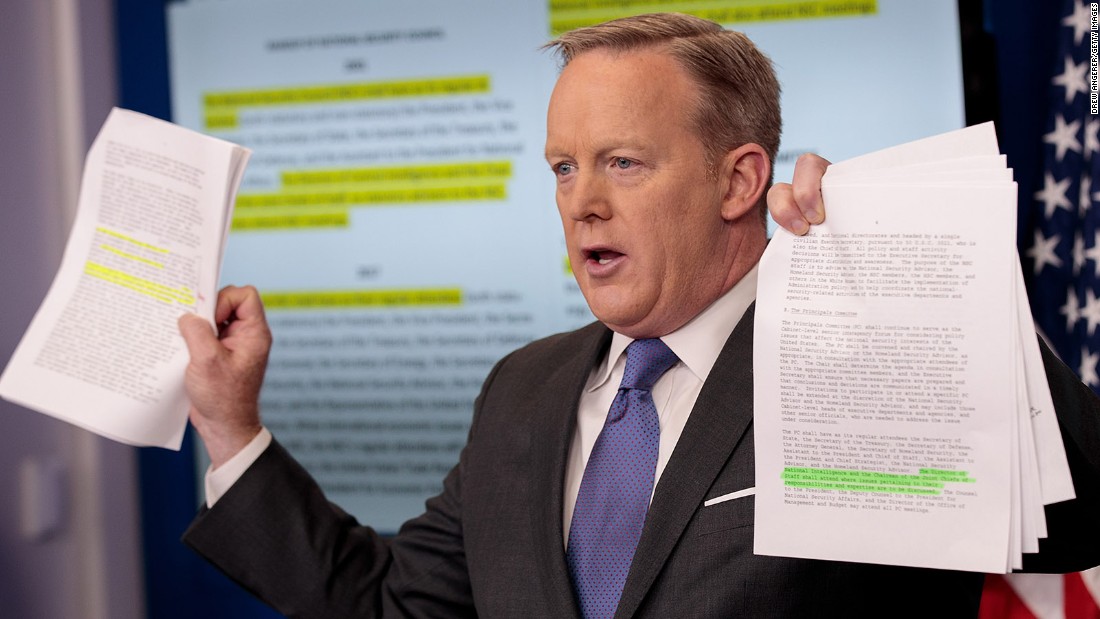 Washington (CNN)President Donald Trump's second full week comes after a chaotic weekend sparked by the executive order temporarily halting immigration from seven Muslim-majority nations. Protesters and lawyers jammed US airports to protest the order and help those who were detained. White House press secretary Sean Spicer said Monday any US diplomats who don't agree with the order can "either get with the program or they can go."
ACTION PRESIDENT TRUMP TOOK TODAY…
ECONOMY — He signed an executive action designed to reduce the regulatory burden on small businesses. Trump said: "There will be regulation, there will be control, but it will be normalized control where you can open your business and expand your business very easily."
WHAT ELSE IS NEW ON DAY 11…
IMMIGRATION
OBAMACARE
ENVIRONMENT/ENERGY
—
The Washington Post highlights
new Republican efforts to roll back Obama's environmental regulations. The rules target methane emissions from oil and gas drilling and water pollution resulting from coal mining activities.
TRADE
LOOKING AHEAD…
TUESDAY — OBAMACARE — Open enrollment ends. Protest are planned. There will be a committee vote on Rep. Tom Price for HHS Secretary.
TUESDAY — SUPREME COURT — Trump makes his Supreme Court nomination announcement at 8:00pm ET.
WEDNESDAY — IMMIGRATION – There's a Homeland Security committee meeting on border fencing.
Read more: http://www.cnn.com/2017/01/30/politics/trump-executive-order-roundup/index.html