The Mexican artists works depicted her dreams, pain and feminism but she also understood the power of performance
Its before 10am on a Tuesday but dozens are already lining up outside the Art Gallery of New South Wales, waiting for the gallery to let them into its latest blockbuster exhibition, Frida Kahlo and Diego Rivera. Most of them are here for Kahlo, the iconoclastic Mexican artist who died aged 47 after a life marred by disability and whose work inspired by indigenous Mexican culture and tradition depicted her dreams, her pain, her feminism and volatile love affair with Rivera.
But, before they get through the doors, the curator, Nicholas Chambers, is giving me a tour. Chambers is young and this is the first show hes curated at AGNSW. He talks a mile a minute and we barrel through the gallery, discussing whether or not Kahlo who was born in 1907 and who rubbed shoulders with luminaries including Leon Trotsky and Andr Breton was the worlds first selfie superstar.
All the tropes are there, certainly: the signature poses, the favouring of a good side, the carefully cultivated look that eventually becomes a brand.
She was a total celebrity in her lifetime, Chambers says. She was photographed with the regularity more of a movie star than an artist.
We pass a long wall of black and white photos, where Kahlo is gazing down the barrel of the lens, her chin slightly up, defiant and strong. She is in her early 20s and already has in place the aesthetic that will define her: long hair parted in the middle, traditional Tehuana jewellery and clothing the square cut blouse, long skirt and shawl and, of course, the monobrow. She looks dope.
Kahlos father, Guillermo Kahlo, was a photographer. Thats a big part of it, Chambers says. She grew up with photography all around her. She probably saw her own self-image in photographs before she saw herself in mirrors.
In that way Kahlo is eerily reminiscent of those children who know how to pose before a camera at an increasingly young age, thanks to their parents obsession with capturing every moment on their camera phones.
Its a performance in her photos, the way she presents herself to the world, Chambers says. Like Dali and Warhol she understood the power of an image. Thats why she resonates so strongly with young people today, who are trying on an image and identity in front of the camera.
Shes one of the most important artists in modern history, and shes killing it, babe.
Take me to your favourite Frida selfie, I command.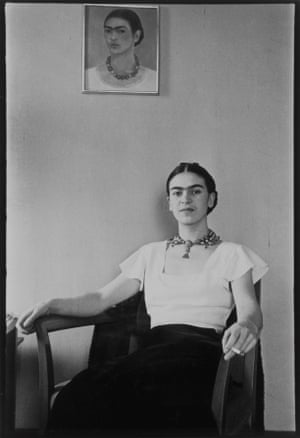 Read more: https://www.theguardian.com/artanddesign/2016/jul/20/frida-kahlo-why-we-cant-look-away-from-the-worlds-first-selfie-superstar
Frida Kahlo: why we can't look away from the world's first selfie superstar