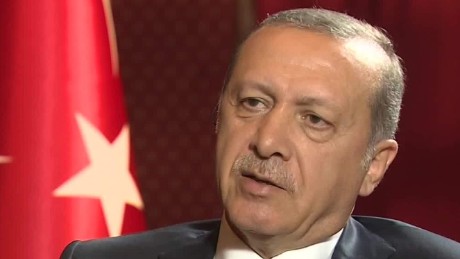 Washington (CNN)Turkey's attempted military coup has brought its relationship with the US to a perilous crossroads.
President Recep Tayyip Erdogan's reaction to Friday's unsuccessful coup is raising alarm bells in Washington as he undertakes a sprawling crackdown, demands extradition of a Turkish cleric from the US and suggests American involvement in the plot despite repeated US denials.
Washington has spent years trying to cultivate the Muslim ally sitting at the crossroads of Europe and the Middle East — a country crucial to the US fight against ISIS, stemming the tide of Syrian refugees and foreign fighters and tight military cooperation as a NATO member state. Now, there are fears that cooperation could slip and with it US interests.
The US, surprised by the coup and long concerned about Erdogan's increasingly authoritarian tendencies, is trying to strike a tricky balance between opposing an undemocratic attempt to topple the government and pushing the government to ease up on its counter response.
The White House has watched Erdogan crack down on the independent pillars of a democratic state — including the judiciary, the media, political opponents and academics — with increasing concern.
"None of us have been under any illusions for some time" about Turkey's increasingly undemocratic nature, said one senior State Department official, who described Erdogan as being "all about consolidating power."
Turkish criticism of US raises tensions
At the same time, Turkish criticism of the US could well increase to the detriment of the countries' ties.
"A radical expansion of power and authoritarian rule will come with the need to point to foreign and domestic enemies, and the US is foreign power par excellence in Turkey," said Ambassador Jim Jeffrey, a former US envoy to Turkey. "They use us to gin up support."
US and European officials are warning Erdogan not to go further down the road of authoritarianism or blame-shifting, issuing lightly veiled threats about the consequences, including potential disqualification from NATO.
Erdogan's response to the crisis — either a tougher, broader crackdown or an attempt to reach out to Turkey's divided constituencies — will redefine US-Turkey ties, analysts say, and could add yet another Mideast headache for the next US president to tackle in 2017.
"The relations with the US will be a subset of where Erdogan wants to take the country now," said Jeffrey. "The coup is history. The question is what he does with it."
Read more: http://www.cnn.com/2016/07/18/politics/turkey-us-coup-military-relationship/index.html
US-Turkey ties at a crossroads?