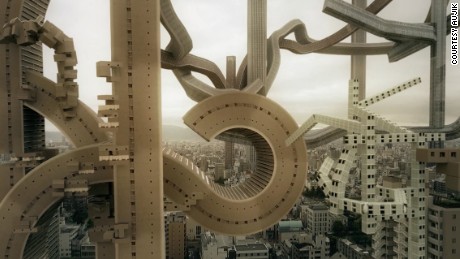 (CNN)Inspiration often comes from the most unlikely of places. For filmmaker AUJIK — a monotonous train ride around Tokyo triggered a spectacular vision of tangled concrete.
That vision is shown in the four-minute film 'Spatial Bodies' — and employs a mix of drone footage and animation to warp the skylines of Tokyo and Osaka. Above, is an excerpt from
'Spatial Bodies
'. Here, AUJIK discusses how he created the film.
How did you come up with "Spatial Bodies"?
It popped up while I was riding around Tokyo on the Yamanote train line. I was listening to the Aphex Twin album on repeat. The cacophony of concrete structures, zipping by in various dimensions and shapes, presented an almost hallucinatory impression of the city.
The architectural landscape began to resemble a forest with trees, plants and all sorts of vegetation. I began sketching ideas but wasn't able to execute them until recently when drones became more accessible. My vision was to rearrange buildings so they could be structured like living organisms.
What sort of videos do you normally produce?
I've been working with this AUJIK concept now for a decade and my previous work has all been about AGI (Artificial General Intelligence) in relation to nature and consciousness mixed with elements of animism and esoteric ingredients.
My most ambitious work is a short film called 'CATHEXIS' and is about a synthetic limbic system and constructed sentient and emotions. That project had decent funding so I could use some actors and filmed with a green screen. It was also a collaboration with a Scottish electronic artist called Christ, whom I've been working with other projects as well. Lately, I have mostly been making music videos for artists.
What do you hope to show to audiences?
Some sort of distorted reality that will hopefully evoke some new perspective and insight.
For more on AUJIK's work visit this
website.
Read more: http://www.cnn.com/2016/07/18/architecture/aujik-spatial-bodies/index.html
They're alive! A warped look at Japan's skylines