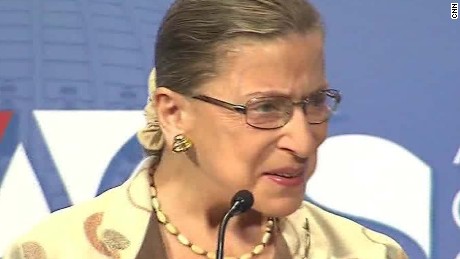 (CNN)Donald Trump has a way of making ordinarily reasonable people get over-agitated. His campaign for the presidency has been decried not just by Democrats but by Republicans, foreign leaders, writers and artists and actors, and now Supreme Court justice and pop culture icon Ruth Bader Ginsburg.
So one can understand why someone who has devoted her life to studying, interpreting and upholding the Constitution of the United States would conclude that Donald Trump is not just a candidate with whom she has political differences, but something altogether different.
And when Trump responded to her criticisms
by tweeting,
"Justice Ginsburg of the U.S. Supreme Court has embarrassed all by making very dumb political statements about me. Her mind is shot – resign!" he demonstrated what she was talking about.
It may be a breach of decorum for a Supreme Court justice to criticize a presidential candidate, but it's much worse for someone who would be President to call a justice feebleminded and press her to step down.
You can still argue that Ginsburg should have kept her opinion to herself, and I wouldn't disagree. The way she did it wasn't going to persuade anyone who didn't already agree, and there's value in at least maintaining the appearance that Supreme Court justices are above partisan politics.
But Ginsburg's breach of decorum is a reminder that in Donald Trump, we're not dealing with an ordinary candidate, but someone who threatens the very underpinnings of the American system.
Read more: http://www.cnn.com/2016/07/14/opinions/was-ruth-bader-ginsburg-really-wrong-waldman/index.html
Why Ruth Bader Ginsburg was right about Trump