Yen falls as investors regain appetite for risk and turn back to equities, while pound rallies and key index suggests broad recovery in worlds stock markets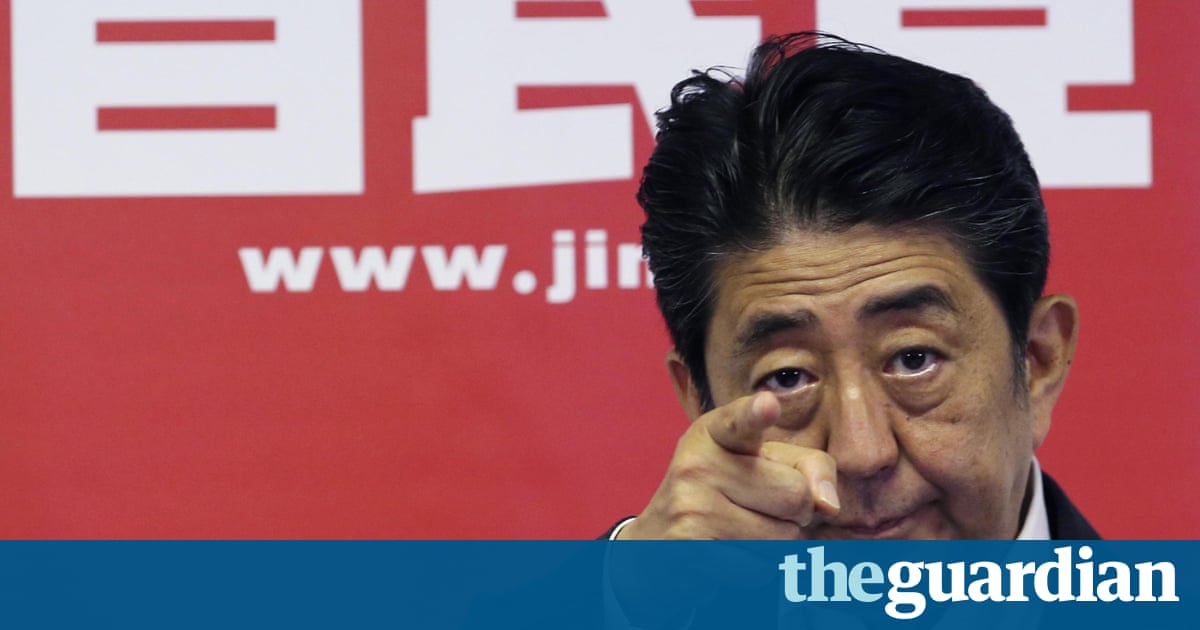 Asian shares came within reach of testing their 2016 peak on Wednesday as solid US growth prospects and the anointing of a new prime minister in Britain appeared to fuel a recovery in investors risk appetite after the uncertainty caused by Brexit.
A rebound in equity markets led investors to reduce their holdings of safe-haven assets like Japans yen, which had surged in the aftermath of Britains shock vote to leave the European Union.
In Japan the prime minister, Shinzo Abe, ordered a new round of fiscal stimulus spending after an election victory.
His meeting on Tuesday with the former US Federal Reserve chair Ben Bernanke, a proponent of helicopter money policies printing money and directly handing it to the private sector to stimulate the economy fuelled speculation Abes stimulus could be funded by the Bank of Japans easing. Such expectations pushed down the yen 4% over the last two days.
Abe has told his economy minister to compile an economic stimulus package by the end of this month to revive a flagging economy.
MSCIs broadest index of Asia-Pacific shares outside Japan had risen by 0.4% to 427.83 at one point, just below its year-to-date high of 428.22 hit on April 21.
MSCIs broadest gauge of the worlds stock markets has recovered all the losses after Britains referendum to hit its highest level in over a month.
A while ago, everything looked so uncertain on Brexit. But now the UK looks set to have a new prime minister and negotiations may begin earlier. That is soothing investor sentiment, said Masahiro Ichikawa, senior strategist at Sumitomo Mitsui Asset Management.
Britains home secretary, Theresa May, is set to take over as Britains prime minister on Wednesday.
The British pound traded at $1.327 at one point after surging almost 2% on Tuesday, pulling away from a 31-year low of $1.2798 struck late in June, as investors bought back the currency on Mays appointment as prime minister.
The euro was little changed at $1.1060.
The Bank of England makes its policy announcement on Thursday, with some analysts expecting a rate cut. The European Central Bank is also widely expected to take a dovish stance when it holds its policy review a week later.
Oil prices dropped more than 1% in early Asian trade on Wednesday after industry group American Petroleum Institute (API) reported a surprise rise of 2.2m barrels in US crude stockpiles last week.
After being faced with the prospect of a major slowdown in global activity in the wake of the Brexit vote, governments and central banks worldwide are now expected to do their utmost to reassure markets and provide stimulus, wrote Angus Nicholson, market analyst at IG in Melbourne.
This has led to an incredible rally in equities and industrial commodities. Of course, should those expectations fail to eventuate they could stop the rally short. The greatest unknown for markets is what will happen in mainland Europe.
With Reuters and Associated Press
Read more: https://www.theguardian.com/business/2016/jul/13/asian-markets-lift-as-britain-gets-new-pm-japan-gets-stimulus-and-us-outlook-brightens
Asian markets lift as Britain gets new PM, Japan gets stimulus and US outlook brightens