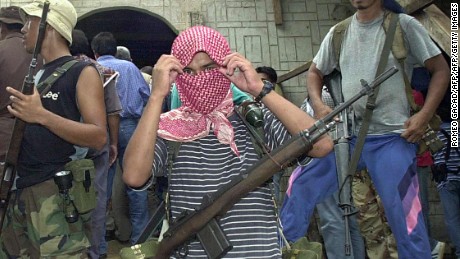 Singapore (CNN)Since videos of Southeast Asian recruits fighting under the black flag of ISIS emerged two years ago, the appeal of the terror group has been gradually growing in the region.
Several militant groups in Indonesia have already sworn fealty to ISIS,
as did those behind the Jakarta bombing
, while in Malaysia, "lone wolf" ISIS sympathizers have been active on social media. Several hundred Southeast Asians are
now in Syria and Iraq
, where they have formed Katibah Nusantara, which claims to represent Southeast Asians fighting for the ISIS cause.
An upsurge in ISIS-related activity in the southern Philippines has heightened concerns that the region could soon become a de facto "wilayat," or province of the "Islamic State."
Philippine sanctuary
For a long time, the Philippine security establishment has dismissed groups like Abu Sayyaf — a few factions of which have declared allegiance to ISIS — as a ragtag bunch of criminals and bandits. This is a dangerous underestimation of the threat.
To be sure, Abu Sayyaf is not a homogenous organization, and there are elements within it that are more interested in money than ideology. But the reality is these "bandits" have proven a formidable adversary for Philippine security forces.
The professionalism of the Philippine military remains an issue. A significant impediment to counter-insurgency and counter-terrorism operations in the south comes from the graft and corruption endemic within the military.
According to a Rand Corporation study, the U.S. provided $441 million in assistance to the Philippine military between 2002 and 2013 to fight Abu Sayyaf. Yet militant attacks during that period did not noticeably diminish by any significant measure. Abu Sayyaf today is getting stronger, not weaker.
Regional cooperation will be needed to deal with the dangers emanating from Sulu. This porous and ungoverned region continues to present a major problem and the challenge posed by the ungoverned space will require multi-national cooperation to surmount.
Because of its long history of militant activity and violence, the Philippines is often overlooked. But Southeast Asia is very much on ISIS' radar given increased attempts by local ISIS supporters and sympathizers to capture attention, and the southern Philippines is presently the weakest link in the effort to curb the growing ISIS threat.
Read more: http://www.cnn.com/2016/07/07/opinions/isis-southeast-asia-liow/index.html
Escalating ISIS threat in Southeast Asia: Is the Philippines a weak link?