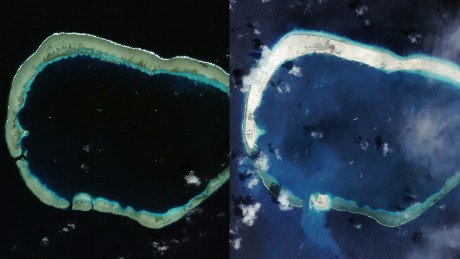 (CNN)A panel of five experts in maritime law will soon hand down their final decision in a case that will have major, lasting implications for one of the world's biggest potential flashpoints — the South China Sea.
Beijing has refused to participate in the case but the outcome could have lasting implications for China's rise as a superpower, global trade and even world peace.
What's the Philippines case?
There are three key points — firstly, the Philippines
wants the court to decide
whether certain features in the sea are islands, reefs, low tide elevations or submerged banks.
It might sound like a minor point, but under the United Nation's Convention on Laws of the Sea (UNCLOS) each delivers different rights over the surrounding waters.
For example, a recognized island delivers an Exclusive Economic Zone of 200 nautical miles, giving the responsible country complete control over all enclosed resources, including fish, oil and gas.
Importantly,artificial islands like those China has been building are not counted.
Secondly, the Philippines wants the court to rule on exactly what territorial claims in the South China Sea their country is owed under UNCLOS. These may contradict and potentially legally invalidate China's claims.
Finally, the Philippines wants the court to determine if China has infringed on its territorial rights through China's construction and fishing activities in the sea.
What's China's stance?
China has long refused to take part in the case and, under the terms of the UNCLOS treaty, this is well within their legal right.
As the verdict gets closer, Beijing has spoken out, saying the case goes beyond the jurisdiction of UNCLOS and insisting multiple times that it won't acknowledge the court's decision.
Additionally, China has been ramping up a propaganda campaign to assert their historical rights in the region with
state news agency Xinhua
publishing almost daily articles outlining their views.
Still, the court's decision is widely expected to go against them.
"I wouldn't say it is 100% but it's expected predominantly to go in the Philippine's way," said Euan Graham, international security program director at Australia's Lowy Institute.
"There will be something for China but almost everyone I've spoken to would expect the bulk of the Philippine's case to get a positive ruling."
Read more: http://www.cnn.com/2016/07/04/asia/south-china-sea-un-case-explainer/index.html
Philippines vs China: Why a South China Sea ruling may change Asia