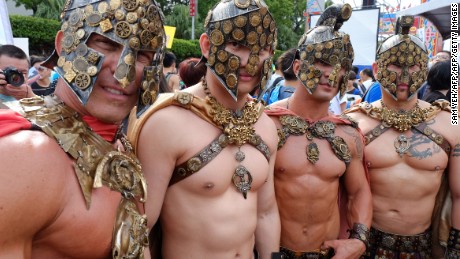 Taipei, Taiwan (CNN)Just before Alvin Chang's mother passed away 12 years ago, she asked Alvin's older sister to look after him.
Why? She had realized her son was homosexual and needed support.
"He will never get married. So you have to take care of him," Alvin recalls her saying to his sister.
Now, with public and political acceptance of LGBT relationships growing in Taiwan, Alvin's late mother, and many of her generation, might be proven wrong.
A new proposal to legalize same-sex marriage is expected to be put forward in a parliamentary committee this year, according to legislators interviewed by CNN.
"I'm sure gay marriage will be legalized soon," said Chang, now aged 45, who runs one of Taipei's most famous gay bars, Dalida, in the heart of the city's gay village. On the walls of the bar, there are posters promoting the legalization of gay marriage.
"I believe she (my mother) would feel happy for me, deep inside, if I one day got married, even if it is with a man."
Several polls indicate rising support for same-sex marriage.
In online survey last year
, backed by Taiwan's Ministry of Justice, 71% of those polled favored legalizing same-sex marriage, a clear increase from previous surveys.
Other polls
have also shown healthy majorities.
When McDonald's in Taiwan recently ran a commercial featuring a young man coming out to his father, a religious group slammed the fast-food chain for spreading "improper" ideas to children.
But the ad's reception online suggested overwhelming public support for the situation.
Published on YouTube on March 4, the video now has over two million views, with 9,600 thumbs up compared to only 600 thumbs down.
"I feel we have a lot of support. I would be highly surprised — and disappointed — if the government didn't push for this," said Olivia Wu, who works at a lesbian store in Taipei, named Loveboat.
Opened 12 years ago as the city's first store focusing on lesbians, Loveboat is today more of a community and hangout for LGBT people. There's a small caf as well as healing and massage rooms. They organize debates and workshops.
Wu, who is originally from Los Angeles, stumbled upon Loveboat on a trip to Taiwan eight years ago — and decided to stay.
"I found a new way of life here. LA's LGBT scene is more hip. Here it's more all rounded, emotional and spiritual. Taiwan is a good place," she said as she showed me around the small shop, which sells everything from chest binders and sex toys to LGBT literature.
Asked if she would like to get married should the law change, she offered the same answer many do: It's about finding the right girl.
"For me, I actually don't find it important to get married," she said. "What is important, however, is to have the right to get married."
Read more: http://www.cnn.com/2016/07/03/asia/taiwan-same-sex-marriage/index.html
Could Taiwan be first in Asia with same-sex marriage?