Friendship sealed over an ale by David Cameron and Xi Jinping is now looking murky with some analysts pointing out Beijing will portray referendum as democratic failure, but others hopeful of renewed human rights scrutiny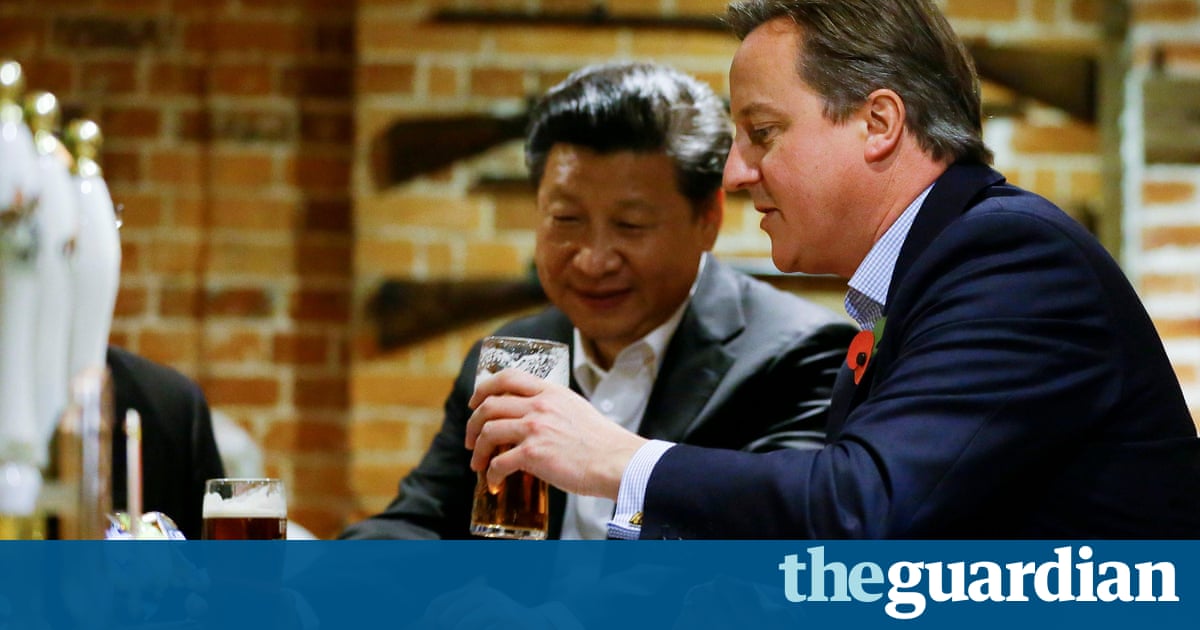 It was all sealed over a pint of Greene King IPA.
One Thursday evening in October 2015, David Cameron strode into a Buckinghamshire pub with another of the worlds most powerful men to toast the beginning of a golden era of relations between the UK and China.
Addressing Britains parliament the previous day, President Xi Jinping of China had gushed over the great new age of friendship between London and Beijing. As the Chinese saying goes: a mountain can never be too high or an ocean too deep, Xi declared.
Yet scarcely nine months after their hop-scented embrace in the Plough at Cadsden, the love affair between Cameron and Xi appears to be on the rocks following Britains decision to leave the EU and the prime ministers resignation.
If George Osborne doesnt get the foreign secretaryship I think the golden [relationship] is beginning to come to a glorious end, said Steve Tsang, a China expert from the University of Nottingham. Its the beginning of the end.
The premature interment will be mourned in both Downing Street and in Zhongnanhai, Chinas Kremlin.
I think their initial reaction [to Brexit] was: Fuck! said one longstanding observer of the political scene in Chinas capital.
For Beijing, cosying up to Britain guaranteed it an enthusiastic cheerleader within the EU and a gateway to the bloc, as well as a means of projecting Chinese power, influence and technology around the globe.
Bolstered by Xis state visit to Britain that October, plans were afoot for Chinese nuclear power stations, a high-speed rail link and even a joint space research programme, as well as making London an offshore trading hub for Chinas currency, the renminbi.
Wagering that Britain would vote to remain, Beijing also hoped its newly forged allegiance would boost Chinas chances of securing market economy status from the EU, making it easier to export to the blocs 28 members.
Critics accused Cameron of performing an epic kowtow in order to curry favour with the Communist party. The US hit out at Britains constant accommodation of China following its decision in 2015 to become a founder member of the China-led Asian Infrastructure Investment Bank (AIIB).
Downing Street countered that becoming Chinas best friend in the west would help secure billions of pounds of investment and foster a decade of economic growth for Britain.
I fundamentally dont see a contradiction between wanting to increase economic prosperity and raising legitimate issues that people have with human rights, Osborne told the Guardian during a trip to Chinas far west in September 2015, rejecting charges Britain was holding its tongue for fear of upsetting Beijing.
Parroting a phrase often deployed by Chinese diplomats, Osborne declared the relationship a win-win for Britain and China.
With the golden relationship seemingly on life support, critics of the policy hope Camerons successor will step back from what they describe as an unquestioning courtship of the Communist party.
Benedict Rogers, the deputy chair of the Conservative party human rights commission, urged the next prime minister to rethink whether it was right to remain silent on Chinas deteriorating human rights situation so as not to jeopardise the partnership.
Rogers said the intensifying affair with Beijing had brought about quite a reversal from Cameron who had previously met the Dalai Lama and spoken out against political repression during a 2007 trip to China.
It seems as if around about 2012-2013 more or less coinciding with when Xi Jinping took power we began to completely change policy and adopt this silence, Rogers said. And I think it has been very, very noticeable, particularly in contrast with the approach that Germany has taken.
Rogers admitted, however, that Brexit might enhance rather than end the relationship.
There is a concern that obviously having left the EU the UK will be looking to strengthen new trading relations with other parts of the world and therefore presumably we will want to be looking at doing even more with China.
Tsang said it was possible that if Osborne the golden eras main architect managed to become foreign secretary under Boris Johnson or Theresa May he would redouble efforts to woo Beijing and could adopt an even more craven approach to China.
More likely though was that the Foreign Office, which has deep misgivings about the flirtation, would now seek to reassert its control over China policy and cool relations with the worlds second-largest economy.
Nick Bisley, an international relations expert from La Trobe University, said he also believed Britains next leader was likely to row back from the friendship, particularly if youve got an America that is trying to be tougher on China and is going to be looking for friends to put pressure on China about the South China Sea and a range of [other] issues.
Publicly, China has lamented Britains decision to walk out on the EU. A lose-lose situation is already emerging, the Global Times, a Communist party controlled tabloid, argued after last Thursdays vote.
But Tsang said there was a definite silver lining for Xis increasingly authoritarian China, [and] it wont have taken them more than 30 seconds to realise.
The referendum shows that democracy really sucks that democracy does not deliver stability, prosperity [or] responsible government, Tsang said.
The first priority of the Communist party and of Xi Jinping is the perpetuation of the Communist partys rule in China. They are fundamentally anti-democratic And what better illustration of how democracy doesnt work than to have the oldest, most respected democracy through a democratic process get itself into arguably, potentially the biggest mess that the UK has self-generated since the second world war? It is a gift.
The British embassy in Beijing said it was unable to immediately comment on the status of the relationship with China post-Brexit.
Hong Lei, a spokesperson for Chinas foreign ministry, when asked whether Camerons fall meant the era toasted with a pint by Xi and Cameron was over, said: China-UK relations enjoy a sound momentum for growth. We are willing to work in tandem with the UK to preserve and develop the bilateral relationship.
Tsang said that in the intensely pragmatic world of international diplomacy, neither Beijing nor London could be surprised that after a steamy eight-month fling they were now puckering up for a parting kiss.
This kind of romance is always short, he said.
Read more: https://www.theguardian.com/politics/2016/jun/30/china-britain-and-brexit-vote-to-leave-eu-robs-golden-relationship-of-its-lustre
China, Britain and Brexit: vote to leave EU robs 'golden relationship' of its lustre