The sold-out hit Broadway musical gets a cast shakeup after three leads leave next month but an upcoming PBS film will give fans a taste of the original cast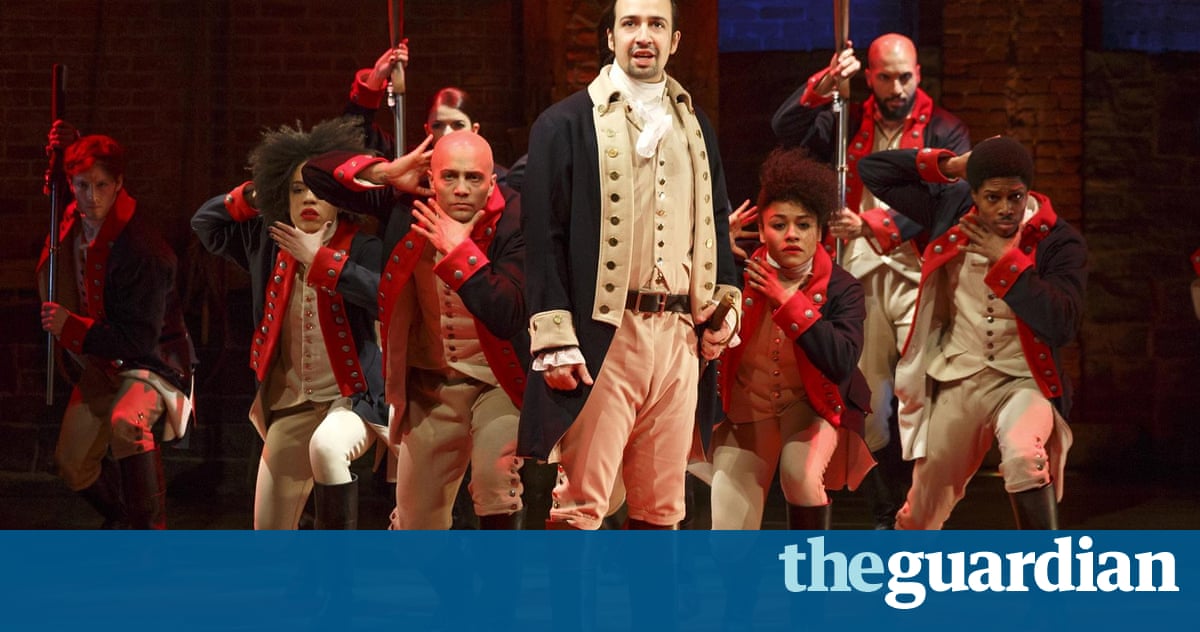 Time has nearly run out to see the original Hamilton cast on Broadway, but a PBS special about the Tony award-winning musical will air in October, featuring at least 15 minutes of performance footage, along with behind-the-scenes footage and high-profile interviews.
PBS announced its Great Performances series episode featuring Hamilton months ago, but time has only increased its resonance. Since then, the show has won 11 Tonys, a Pulitzer prize and a Grammy.
Lin-Manuel Miranda, who performs in the starring role, has also announced hell be leaving the show on 9 July. So will prominent cast members Leslie Odom Jr, who plays Aaron Burr, and Phillipa Soo, who portrays Eliza Schuyler.
All three, however, will be filmed and be part of the 21 October PBS show, Hamiltons America, the chief programming executive of PBS, Beth Hoppe, said.
The documentary will air unseen footage of the original cast production, but it will only be an abbreviated performance. Although PBS is filming two performances of the entire show with its original cast, the network said it is contractually limited to showing only 15 minutes. It remained unclear on Thursday whether producers would try to push that limit. PBS said it had no plans to use the entire performance.
The show also contains backstage footage taken during the two years leading up to the Broadway premiere of Hamilton.
PBS aired the program In the Heights: Chasing Broadway Dreams, about Mirandas previous show, in 2009.
The reason we have this opportunity is because we were there then, Hoppe said. Everybody knows Lins name now, but they didnt back when he did In the Heights. Thats why I think hes loyal to PBS, and why he brought it to us.
At a press conference last week about his upcoming projects, Miranda said the documentary would be different to the In The Heights special.
Its not like the Heights doc. Its not the road to Broadway. We lived that movie already, he said. This is sort of where Hamilton intersects with history.
Hamiltons America will be directed by Alex Horwitz, a close college friend of Mirandas. Along with interviews with George W Bush, the Obamas, Questlove and Jimmy Fallon, the documentary features early footage of Miranda developing the musical.
He just started filming me when I was writing it very early [on], explained Miranda. Hes got footage of me writing My Shot in the Morris-Jumel Mansion, working out Burrs Gentleman, lower your voices. Hes got this insane footage because he was like, Can I throw a camera on you since youre writing this thing?
PBS hopes the booking can be an attention-getting show along the lines of Downton Abbey or its Ken Burns documentaries. Hamiltons America will kick off a series of arts programs for the network this fall, including performances from Alvin Aileys American Dance Theater and pianist Lang Lang. Claire Danes will host an eight-part series on how technology combined with artistry to create modern recorded music.
Its an opportunity for us to talk about our commitment to the arts and the fact that PBS is about the only outlet doing arts on television, Hoppe said.
Read more: https://www.theguardian.com/stage/2016/jun/24/hamilton-documentary-to-feature-unseen-footage-of-original-cast-performance
Hamilton documentary to feature unseen footage of original cast performance