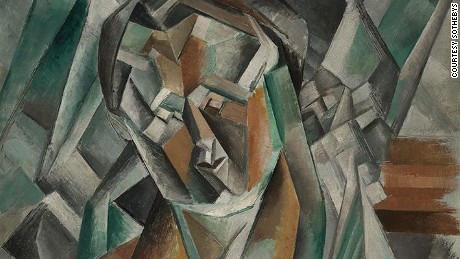 (CNN)Picasso's Cubist works line the white walls of every major international art museum, from the Museum of Modern Art in New York to the Tate Modern in London.
But now, one of his most seminal works is hitting the auction block.
Femme Assise
(1909), one of the artist's earliest Cubist paintings, is expected to go for $40 million at a
Sotheby's London auction
on Tuesday. Experts say it depicts Picasso's lover and frequent model Fernande Olivier.
"It is extremely rare," says Helena Newman, Sotheby's global co-head of Impressionist and Modern Art department.
"The vast, vast, vast majority of the works of the Cubist period of this importance went into museums of the world many years ago because Picasso's Cubism has for many decades been considered one of the most important, groundbreaking periods — not just for him, but for the whole of what was to come in terms of modern art."
A seminal work
Cubism, which sees subjects broken down into geometric shapes and reassembled in an abstract way, is considered one of the most revolutionary movements in contemporary art.
Taking root in the early 20th century, it is considered a precursor for contemporary abstract art.
The current owner, whose identity has not been disclosed, first bought Femme Assise at a 1973 Sotheby's auction for 340,000 ($486,000). Now, the house has priced it at upwards of $45 million. ("That's the estimate, on request.")
While this is not as high as the price of Picasso's
record-setting Femmes d'Alger
, which sold for $149 million in 2015, Newman expects healthy competition from parties interested in acquiring this "Blue Chip museum-quality Cubist work."
"There hasn't been a painting of this importance at auction in potentially a generation," Newman says.
"I think what people are excited about is that sense of being upfront with Picasso at the very moment of his creative process. It's that sense of the potential of being able to have a piece of that moment of what defines Picasso."
Read more: http://www.cnn.com/2016/06/19/arts/picasso-femme-assise-sothebys-auction/index.html
This early Picasso Cubist painting could sell for $45 million