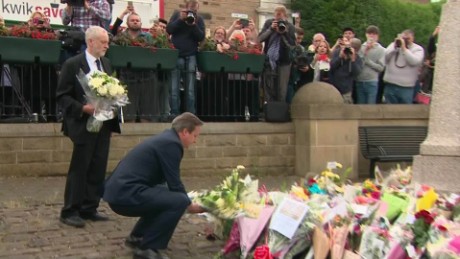 (CNN)It was lunchtime on a warm, dull Friday in the West Yorkshire village of Birstall, UK, when locals gathered for an unusual vigil. In the paved marketplace of this small northern town of 15,000, Prime Minister David Cameron stood in silent tribute to fallen colleague Jo Cox, a popular freshman representative of his rival Labour Party, who was gunned down Thursday in the heart of her constituency.
And Britain, like America, is haunted by the fear of Islamic terrorism. The Left has already seized on Mair's purported white-supremacist background to complain about the Right's "anti-Muslim paranoia;" the Right in turn is arguing that there's a difference between a loan gunman and a sustained political threat. (True, but white fascists can be sustained political threats, too.) Again, American readers will find familiar echoes from Orlando.
But in the main, the focus in Britain has remained on the victim, Jo Cox, who served only 13 months as a British MP, but whose prior career had seen her move between senior Labour staffer jobs and high-powered humanitarian lobbying, most prominently as head of policy for the major poverty charity, Oxfam.
Her opponents know that her loss strikes at the heart of the Labour family. After the killing, with tear-stained cheeks, Sarah Brown, wife of former PM Gordon Brown, paid tribute to her former adviser; Neil Kinnock, a previous leader, spoke of her as akin to "a beloved niece."
The politicians are playing nice with each other, for now. It's not because they're morally superior to their U.S. counterparts. But here in Britain, they just don't know how the post-assassination game is played.
Read more: http://www.cnn.com/2016/06/17/opinions/political-reaction-jo-cox-orlando-maltby/index.html
Why Britain doesn't play politics with gun tragedy