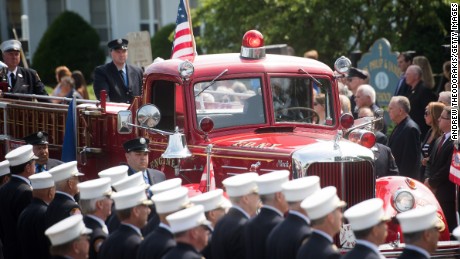 St. James, New York (CNN)New York firefighter Michael Stack was angry for years after he lost his father on September 11, 2001.
He was angry that his dad, an FDNY battalion chief whose remains were never found, had missed so much of his life. He was angry every time one of his four children was christened and his father wasn't there to witness it. And he remained angry when his brother Brian, also an FDNY firefighter, got married and had children of his own who would never meet their grandfather.
But on Friday — a beautiful late spring morning on Long Island — Stack announced to a crowd of family and colleagues: "I'm not mad anymore." Because 15 years after Battalion Chief Lawrence "Larry" Stack died in the World Trade Center attacks, his family finally had recovered a part of him that once flowed through his heart, a part of Larry Stack that finally could be laid to rest: a vial of blood.
Helping 'even the smallest'
Larry Stack was a man who, by all accounts, was kind, selfless, and brave. Prior to his 33 years of service with the FDNY, he served in the United States Navy for six years, including a tour of duty in Vietnam.
Of the 343 FDNY members who lost their lives on September 11, remains of 127 have never been recovered.
On Friday, funeral services for Larry Stack at a church on Long Island provided some closure for a family that has been grieving for 15 years. Burial at a military cemetery also on Long Island will take place later.
"He's finally being laid to rest, in a place he rightfully earned," Michael said. "The dead can't speak, but when you go to a place like Arlington National, Cypress Hills, or Calverton (Cemetery), where my dad's going, those headstones speak loud and clear to me."
Larry's widow, Terri, wept quietly as she followed a casket draped with an American flag out of the funeral service Friday. She was surrounded by her family, and members of the FDNY. She wore a white dress.
Friday would have been Larry and Terri's 49th wedding anniversary.
Read more: http://www.cnn.com/2016/06/17/us/fdny-vial-blood-september-11-funeral/index.html
A funeral 15 years after 9/11: Vial of FDNY chief's blood gives family closure