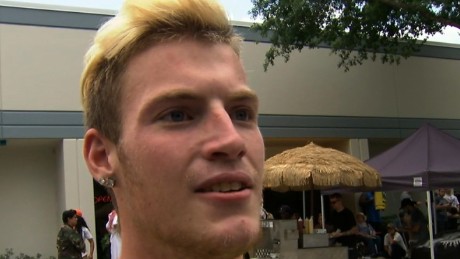 (CNN)At first, many of those enjoying a Saturday night inside a cavernous nightclub in Orlando, Florida, thought the sound of shots was just part of the show, loud beats punctuating the soundtrack.
The music was blaring and people were dancing at Pulse when gunfire erupted at the popular club just after 2 a.m. Sunday.
It would become the deadliest mass shooting in U.S. history.
Survivors describe a scene of chaos, made more terrifying by the darkness and loud music.
Some entertainers inside the nightclub said they hid in the dressing room when the shooting started. They were able to escape the building by crawling out when police removed the air conditioning unit.
One employee said she hid under the glass bar. Police came in and said, "If you are alive, raise your hand." Then police got her and others out.
A person who hid in the bathroom said she survived by covering herself with bodies.
Witnesses described their ordeal in heart-wrenching detail.
It started as a regular Saturday night
Ray Rivera was the DJ on Saturday night at Pulse.
"I heard something that sounded like firecrackers and I heard it again and I hear — and I hear it again and that's when everyone came barreling out to get out, and was jumping over the fences and stuff," he said.
"Once people started screaming and shots just keep ringing out you know that it's not a show anymore and you got to do what you got to do," he said. "Once people started screaming, my first instinct was to run … I knew it was not a game anymore."
Moss said he is not very religious person. But he urged everyone to pray.
"It's always said that God gives his hardest battles to the strongest people," Moss said, his voice breaking.
"We're standing up and we're fighting, that's all we can do. All we can do is fight."
Read more: http://www.cnn.com/2016/06/12/us/orlando-shooting-as-it-happened/index.html
Orlando survivors describe scenes of chaos, terror