Clint Dempseys first-half goal gives USA victory over Paraguay, and they hold on despite DeAndre Yedlins red card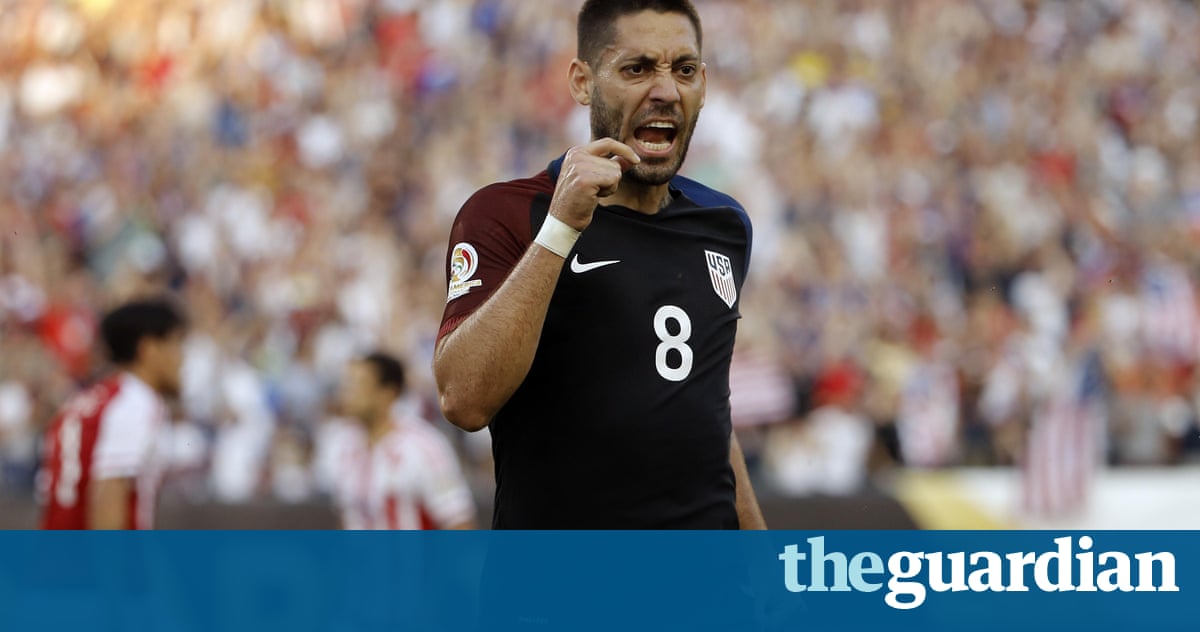 The United States are through to the quarter-finals of Copa Amrica Centenario after a hard-fought 1-0 win over feisty Paraguay on a balmy Saturday night at Lincoln Financial Field.
Clint Dempseys 27th-minute strike offered an early cushion that proved even more vital as the Americans were forced to play nearly the entire second half with 10 men after DeAndre Yedlin was shown two yellow cards within less than a minute.
For only the second time ever, and the first since the 1930 World Cup, the United States started the same line-up for a third straight match. Jrgen Klinsmanns faith in a team that bowed 2-0 to Colombia in the tournament opener and bounced back with a 4-0 win over Costa Rica was rewarded, but not without a key tactical adjustment. The USA manager scrapped the previous 4-3-3 formation for a 4-4-2 with Dempsey and Bobby Wood up front, the better to protect the flanks against Paraguays well-drilled counter-attack and ensure Wood wasnt lost out wide.
Although the USAs passage to the last eight would have been practically assured with a draw, the crowd of 51,041 was treated to entertaining two-way attacking start, with no sitting back from either side. Paraguay nearly struck first in the 10th minute when Geoff Cameron was caught pressing on the edge of the opponents box as the USA conceded possession, leaving defensive bulwark John Brooks to make a heroic, goal-saving tackle on Miguel Almirn. It was the first of many standout moments for the 23-year-old Hertha Berlin center back.
Brooks was a tower out there, Dempsey said. He was clearing everything.
Nowhere was Klinsmanns confidence better rewarded early than with Gyasi Zardes, who struggled mightily in the opening group-stage matches but whose surge up the the left flank just before the half-hour mark set the stage for USAs crucial opening goal. The mercurial LA Galaxy winger with the golden mohawk beat his marker and slotted a low cross to find an onrushing Dempsey, who deposited a left-footed finish past the helpless Julio Villar.
Clint finishing it off, Klinsmann later reflected. Being clinical. Being Clint.
Dempseys 51st international goal and second in as many matches offered a spot of relief after a tense opening act, but it wasnt long before dogged Paraguay threatened again. Victor Ayala won a free kick after a foul by Wood only three minutes later, but Miguel Samudios attempt deflected off the wall for a corner that was headed well off target by Fabin Balbuena.
An even more ominous chance was thwarted in the dying moments of the first half, when an unmarked Dario Lezcano surged into the area, but a hair-trigger kick save by Guzan kept the United States ahead.
The plot thickened moments into the second half when Yedlin was shown two yellow cards by Chilean referee Julio Bascunan within the span of roughly 30 seconds the first perhaps harsh, the second a reckless two-footed challenge on Samudio beyond dispute to leave the Americans down a man.
Just after the hour mark Zardes made an excellent run on to a perfectly weighted pass by Wood a golden opportunity to double the lead but a butchered finish prompted groans from the South Philadelphia crowd. Both sides persisted through the sweltering 90F conditions: even the referee cramped up in the 67th minute, requiring two minutes of treatment from the medical staff that offered a welcome refresher for the undermanned hosts.
Some well-worked possession from USA deep into the final third ended with Michael Orozco on the right flank with acres of space, but a poor cross returned possession to Los Guaranes, whose chances were fewer and farther between as the match pressed forward.
With time running short on Paraguays Copa Amrica campaign, tempers flared. The referee issued a seventh yellow to Ayala for steamrolling Zardes in the 78th, then an eighth to Orozco seconds later when the Club Tijuana defender ripped down an attacker.
Paraguay came agonizingly close to equalizing in the 82nd, but a double save by Guzan, after the initial shot cannoned off Brooks, preserved the lead. Moments later, Kyle Beckerman entered for Wood to bolster the defense, with Zardes shifting up as the lone forward.
Paraguays best chance in the final stages came in the 89th, when Gustavo Gomez was ruled offside after slotting in an apparent equalizer. After holding on through six minutes of stoppage time, the final whistle sounded as the Americans embraced one another, their homeward bound opponents hunched over in defeat.
The 23-year-old Brooks, a disruptive presence from wire to wire, was the runaway choice for man of the match and drew high praise from his manager.
That performance by John was definitely something special, Klinsmann said. All of Europe is watching that. This is a big statement, what he did tonight.
By reaching the last eight, USA have advanced from the group stage of a major international tournament after losing their opening match for the first time ever. They will play their quarter-final match on Friday at New Jerseys MetLife Stadium if Colombia win or draw against Costa Rica in Saturdays later game, or Seattles CenturyLink Field on Thursday if Costa Rica win.
While the United States wont know whether they will face Brazil, Ecuador or Peru until Sundays matches are played, Klinsmann welcomed all comers as his side moves into the tournaments business end.
You want to be in a competition like that. If its Brazil, its Brazil. If its Ecuador, its Ecuador, the manager said. Its a wonderful opportunity for our team to play these type of games and just grow, grow, grow and rise to the occasion. We have nothing to lose. If its Brazil they are the big-time favorites, five-time world champions and all that. But why not going at them. Why not be courageous, why not putting pressure on them and give them a game. Every team has weaknesses.
Read more: https://www.theguardian.com/football/2016/jun/11/clint-dempsey-usa-copa-america-paraguay
Dempsey makes the difference as USA battle into Copa Amrica last eight