Messi introduced as second-half sub and scores three in 21 minutes as Argentina crush 10-man Panama in Chicago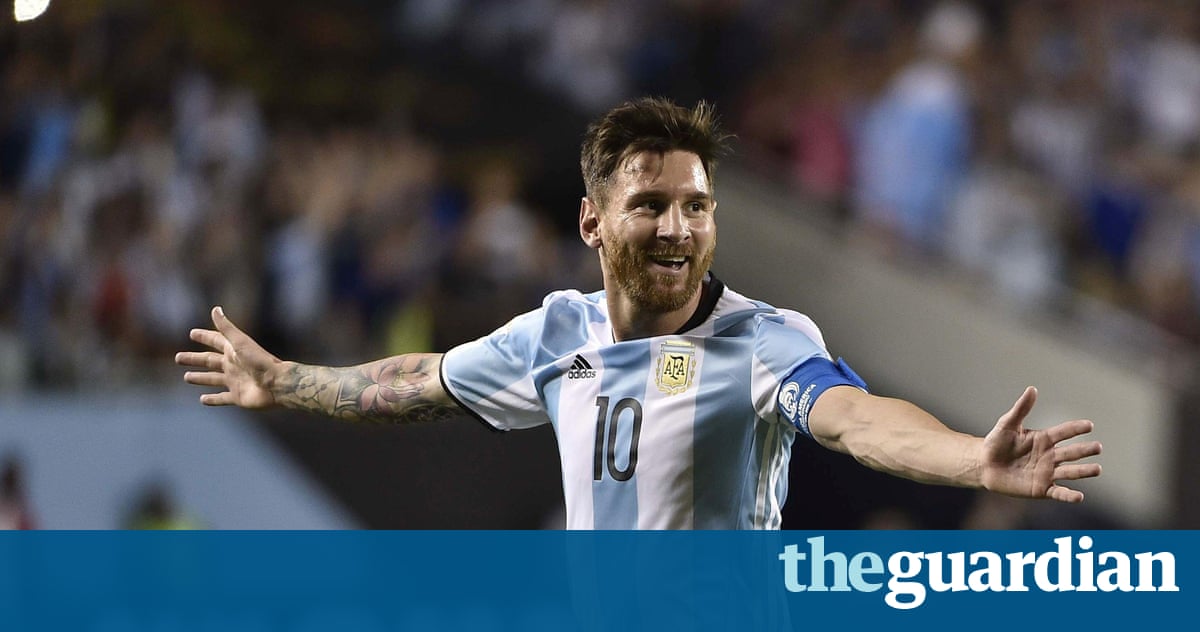 Lionel Messi scored three goals in a dazzling second-half display in his return from a back injury, and Argentina beat Panama 5-0 on Friday night to clinch a spot in the knockout round of the Copa America Centario.
Messi replaced Augusto Fernandez in the 61st minute, drawing a big ovation from a sea of No10 Argentina jerseys and the familiar colors of Barcelona at Soldier Field. A few minutes later, the five-time Fifa player of the year got right back to work.
First, Roderick Millers clearing attempt for Panama went off Gonzalo Higuains hands as he went to protect his face and right to Messi, who beat Jaime Penedo on the goalies right side. Then Messi sent a brilliant curling free kick into the top corner in the 78th minute, making it 3-0 and drawing gasps from the crowd.
A left-footed chip past Penedo finished off Messis fourth international hat trick, joining friendlies against Switzerland and Brazil in 2012, and Guatemala in 2013. It also increased Messis total to 53 international goals, just three away from Gabriel Batistutas Argentines record.
It was quite a return for Messi after he departed in the second half of a 1-0 victory against Honduras on May 27 with a back and rib injury. He also missed Argentinas 2-1 victory over Chile in the Copa opener, but manager Gerardo Martino said Thursday he was training with the team and was ready to go against Panama.
No kidding.
Nicolas Otamendi also scored on a header off a curving free kick by Angel Di Maria in the seventh minute, and Sergio Aguero made it 5-0 in the 90th minute.
A rare US appearance for Messi attracted a crowd of 53,885, easily cruising past the attendance of 39,642 for the United States 4-0 victory against Costa Rica on Tuesday night. The fans chanted Messi! Messi! at a couple points in the first half and cheered loudly whenever he was shown on the videoboard.
In between a steady stream of first-half whistles and yellow cards, top-ranked Argentina showed off some of the play that makes them one of the favorites to take home South Americas championship. Panama competed hard, but played with 10 men after Anibal Godoy received his second yellow in the 31st minute.

Read more: https://www.theguardian.com/football/2016/jun/10/lionel-messi-hat-trick-argentina-panama-copa-america
Lionel Messi scores brilliant hat-trick as Argentina surge into quarter-finals