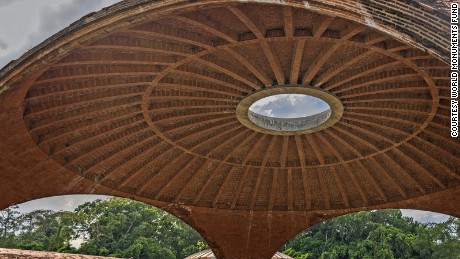 (CNN)Conceived more than five decades ago by Fidel Castro and Che Guevara to bring arts education to the world's underprivileged, Cuba's National Art Schools lie on the edge of Havana, a stunning but collapsing monument to the country's revolutionary beginnings.
"They are landmarks of modernism and the most outstanding examples of new architecture produced by the Cuban revolution," says Norma Barbacci, an architect at the
World Monuments Fund
overseeing efforts save the Schools.
Admired for their serpentine beauty and proud brick and terracotta domes, numerous attempts to restore the schools have been made by the Cuban government and outside parties over the years — including by locally-born ballet star Carlos Acosta.
But with the complex now listed on the 2016 World Monuments Watchlist and two of the five schools close to collapse, architects from the World Monuments Fund, the Italian government and Acosta are all hoping the Cuban government can finally find a sustainable way to restore these fading pieces of history before they are lost to the surrounding jungle forever. \
Read more: http://www.cnn.com/2016/06/01/architecture/cuba-national-art-schools/index.html
Resurrecting a revolution: The fight to save Cuba's art schools