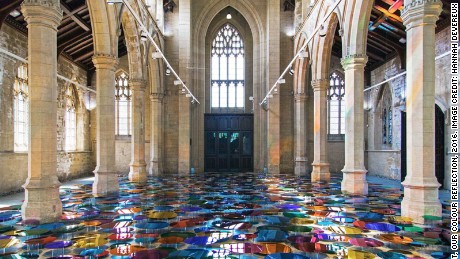 (CNN)A former church in the English town of Scunthorpe has been set aglow in a kaleidoscope of colors.
Artist
Liz West
has installed more than 700 lily pad-like pieces of reflective acrylic — in 15 hues — inside St. John's Church, casting its wooden beams and stone archways in a new light.
'This has allowed me to make sure the work is grounded within its site but also holds its own voice with the grandeur and information that the space brings to the conversation,' said West.
The acrylic mirrors also reflect the roof and beams of the former church, now an exhibition space called 20-21 Visual Arts Centre.
Our Colour Reflection will be on show at 20-21 Visual Arts Centre until 25 June.
Check out The Spaces for more innovative architecture projects from around the world.
Read more: http://www.cnn.com/2016/05/29/arts/liz-west-color-church/index.html
Not your average disco: This church features a psychedelic light show