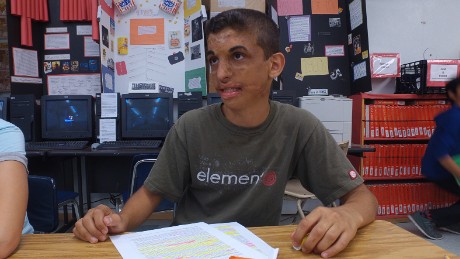 (CNN)Nearly a decade ago, 4-year-old Youssif sullenly pushed grains of rice through his lips in the kitchen of our Baghdad bureau.
His face was hardened into rivers of scar tissue that kept him from being able to open his mouth.
I remember his anger, which was so deep for a child so young. His parents were at a loss. All they wanted their little boy back — and to hear him laugh again.
But for Youssif today, fitting in is not has hard as it used to be. "Now, I make friends easily, and everyone is nice to me at my school. Some of them even treat me like a brother."
Nine years ago, he told me that the kindness of strangers exists, and he was right. The outpouring of support for Youssif by CNN viewers showed us that we needed to provide a way for our audiences to get involved in stories like this. This led to the creation of the
Impact Your World
initiative, which has helped raise funds, find volunteers and make an impact for those in need over the last 9 years.
Today, Youssif continues to remind us of the importance of kindness. In a world where fear of "the other" is growing, where the building of barricades and rejection feeds directly into the narrative of terrorist organizations, he is a reminder of the transformative power of compassion.
Read more: http://www.cnn.com/2016/05/27/health/youssif-burn-recovery-2016/index.html
After years in U.S., burned Iraqi boy hopes to help others