Corey Lequieu pleaded to using force, intimidation and threats to impede federal officers during the armed occupation of the Malheur national wildlife refuge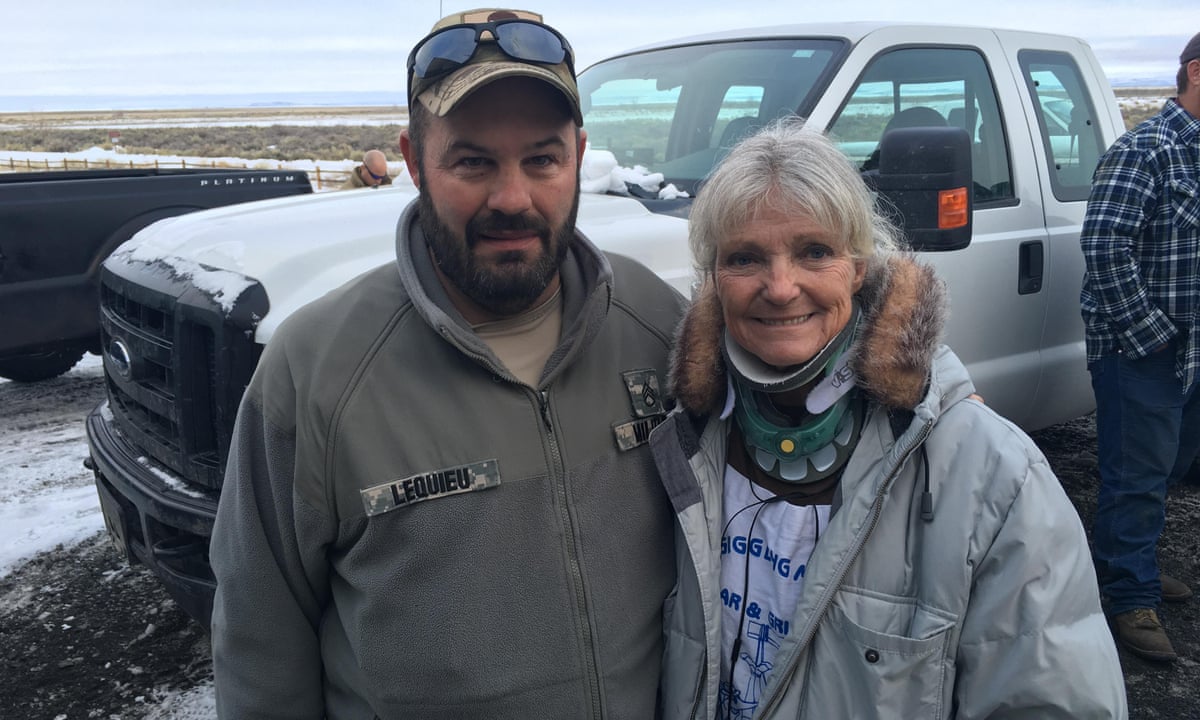 A participant in the Oregon militia standoff at a wildlife refuge pleaded guilty to conspiring against the federal government on Thursday, making him the first of 26 jailed protesters to accept a deal with US prosecutors.
Corey Lequieu, 46, pleaded guilty to using force, intimidation and threats to impede federal officers at the Malheur national wildlife refuge, where a group of activists, some heavily armed, staged an occupation in January to protest the governments treatment of ranchers.
Brothers Ammon and Ryan Bundy, who helped lead the protests, refused to enter pleas at their arraignments, resulting in a a judge entering a not guilty plea on their behalf, paving the way for a high-profile trial.
It was the best option available, Lequieus girlfriend Debra Carter Pope said in an interview Thursday. Whats important to him and to me is family. Its better than being in there for years and years.
Federal prosecutors have recommended that Lequieu spend two-and-a-half years in prison and have agreed not to level any additional charges against him, according to the Oregonian. In the governments indictment he had originally faced two additional charges related to his possession of firearms at the bird sanctuary.
The conspiracy charge for which Lequieu pleaded guilty carries a maximum sentence of six years.
The activists took over a number of government buildings at the refuge headquarters to protest the imprisonment of two eastern Oregon ranchers convicted of arson offenses. The Bundy brothers and their supporters have argued that the federal government has no right regulating public lands in the west and have continued to argue in court that US prosecutors lack jurisdiction in the case.
Their philosophy gained traction in the west in 2014 when their father Cliven Bundy staged a standoff with the federal government at the familys ranch after refusing for years to pay grazing fees. Cliven, too, is behind bars, awaiting trial for the 2014 standoff and has also refused to enter a plea.
Lequieu and his girlfriend, who are from Fallon, Nevada, were both regular presences at the refuge, though Carter Pope, who was one of the main cooks for the protest, was not arrested or charged.
During the second week of the protest, Lequieu told the Guardian that he works for a hauling company and that he was prepared to stay at the occupation for a long period, though would eventually have to go back to work. He left the site after numerous protesters were arrested and Oregon police shot and killed LaVoy Finicum, a major occupation spokesman.
Angie Bundy, Ryans wife, said she was surprised to see a defendant had pleaded guilty noting that her husband and their supporters feel strongly that they are innocent. Hes not guilty of any crime. He didnt do damage to anybody.
She added, My husbands standing on principle. Hes looking at the larger picture. … Hes not going to plead guilty.
Carter Pope noted that as part of the plea deal, Lequieu has made clear that he is not cooperating with prosecutors. Theres no way he wouldve cooperated. He doesnt want anyone to think hes a snitch. Hes not.
Lequieu will also have to pay restitution to the government and will remain in custody prior to a 25 August sentencing.
Read more: https://www.theguardian.com/us-news/2016/may/19/oregon-militia-government-standoff-corey-lequieu-pleads-guilty
Oregon militia standoff member pleads guilty to conspiring against government